Writing into March
Bookish & Particular Issue #2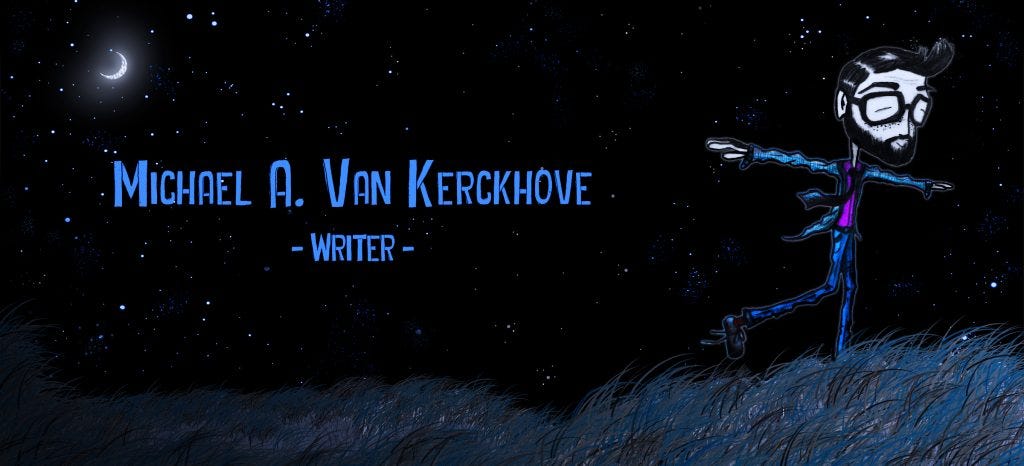 Welcome
Hello! Welcome to the second issue of Bookish & Particular: The Writerly Life of Michael. If you haven't read Issue #1, you can do so HERE.
Firstly, my writerly site was featured in an article about writerly sites by Ontario writer and digital marketer Alex Tucker: 5 Writer Websites to Inspire Your Own. Check it out!
Now, as we try to climb out the winter funk, I'll admit that my dedicated endeavor of writerly creative output has been minimal of late. Amongst various life things, Journaling and job search stuff have taken up some of my available bandwidth.
I've been journaling since I received my Pac-Man diary for Christmas in the third grade. Followed by my Michael Jackson notebook a few years later (with the "Human Nature" single cover) and then the official launch in junior high of The Pages of My Life series of nineteen spiral notebooks. (That title is way twelve/thirteen-year-old Michael and it stuck.) Then my online LiveJournal, other blank books, and now the POML "reboot" written in more Moleskin sized pages. I also have my "little" journal for daily snapshots to help curb the stress of dedicating time to write the sprawling epics of Everything. These journals have all been and will continue to be extremely valuable in my writerly life as resources for my personal stories. They also help de-clutter my brain as needed and overall get me writing.
As for the job search, well, I've crafted a number of cover letters and emails over the months as I look to replace or supplement my restaurant job. That whole full-time vs. freelance vs. a nine-to-five vs. the gooey flexibility of the food industry vs. passion vs. security thang. Lots to think about, and a full-time job in itself! So, send good vibes, please and thank you.
---
From the Pen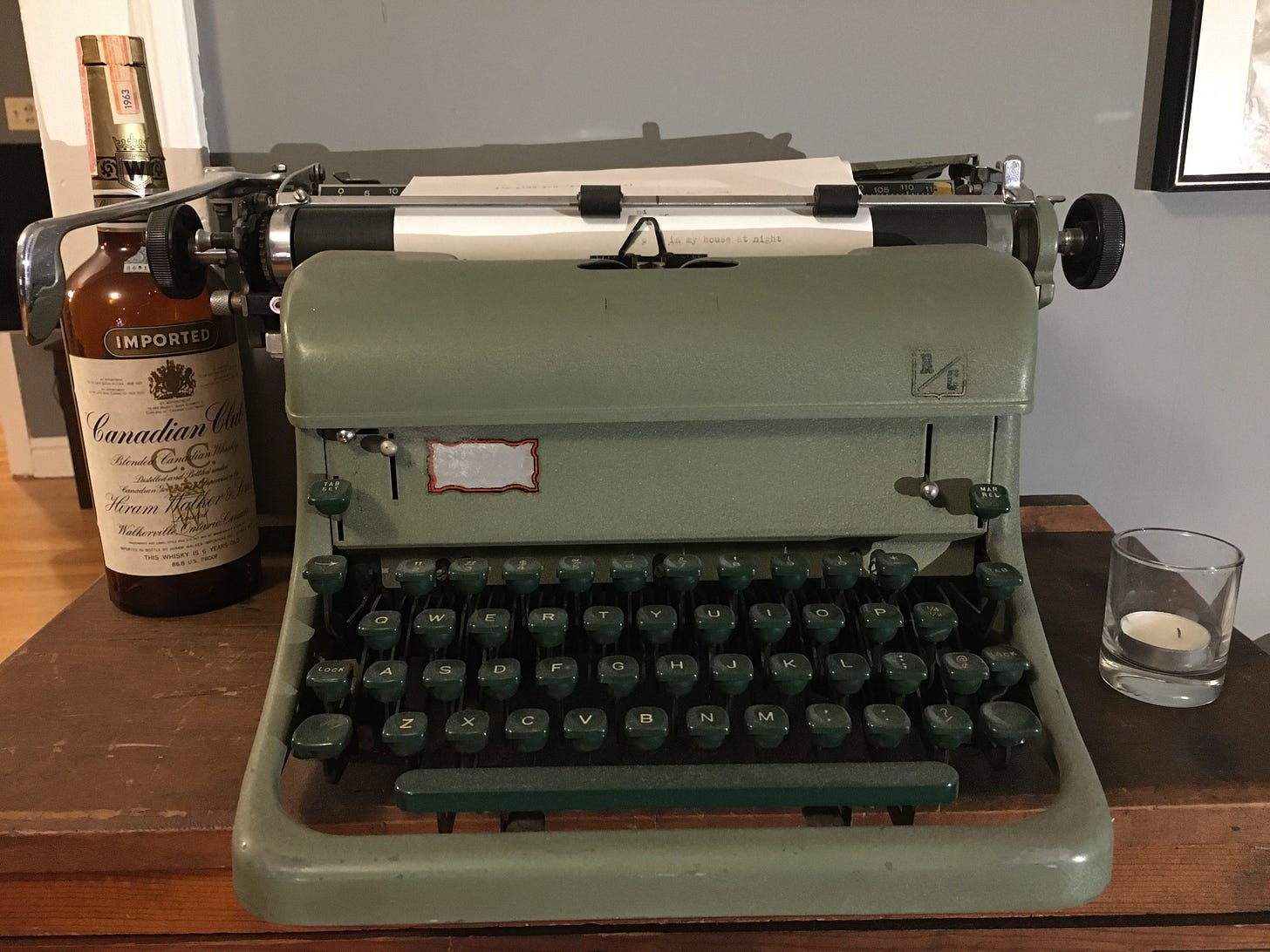 Grandma's typewriter: Remington, circa 1949. (With Canadian Club bottle, 1963.)
I'm gearing up for a couple Live Lit shows in April. For the April 3 show, I'm working on a new story about creating my space (physical and emotional) in the past year and a half plus of living and being on my own for the first time in a long time. It's a follow up of sorts to my Salzburg piece chronicling the lead up to my move back to Chicago—which I submitted to Belt Publishing's forthcoming LGBTQ anthology. Alas, I was not selected. So now the story is a free agent…. For the April 2 show I'll be updating and polishing a story from the archives. I look forward to working on this one as well.
One of my Big Projects I want to give some love to this year is my "1950s novel." Back in 2004/05, I wrote my last full-length play, and I've been toying with adapting it into a novel. So far, I've adapted the first few scenes. A pretty straightforward adaptation so far: directing and designing the play of sorts while allowing for the inner thoughts and seeds for backstory inherent to prose. I have the story and the characters, and I look forward to spending more time with them.
To learn more about past online and print publications, head over to my site's Publications page.
---
On the Stage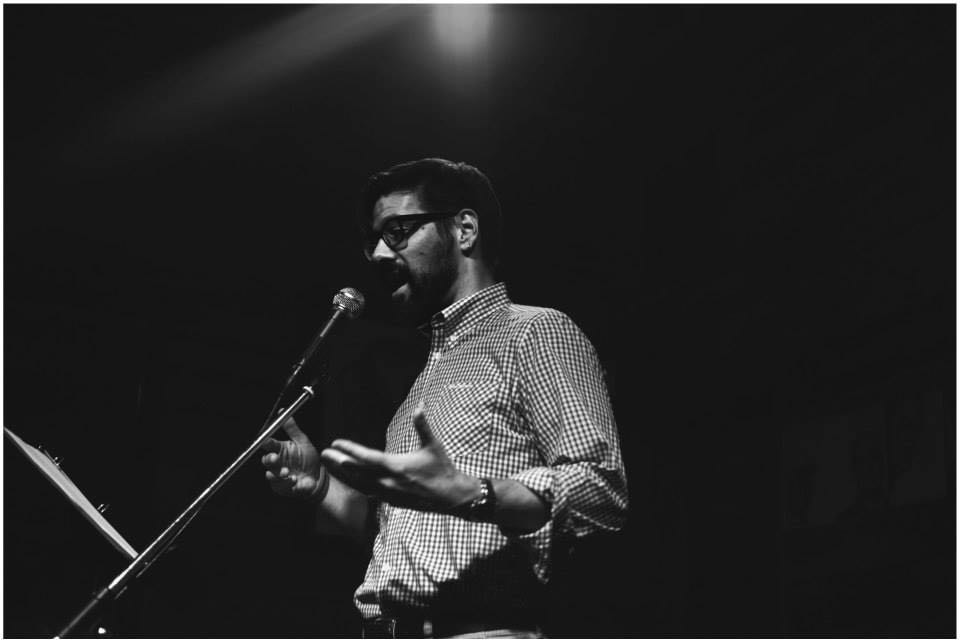 Performing at TenX9 Chicago, 2014. Photo: Nicolette Nunez.
Here's the latest rundown of my 2020 performances. Hope to see you there! For details on my performance history, visit my website's Performance page.
I recently read at Do Not Submit, Andersonville, an open mic series with neighborhood editions throughout the city. I read my piece, Like-ology. I had to trim it a little due to time, but it was well received and I'd like to do more with it someday.
---
Off the Shelf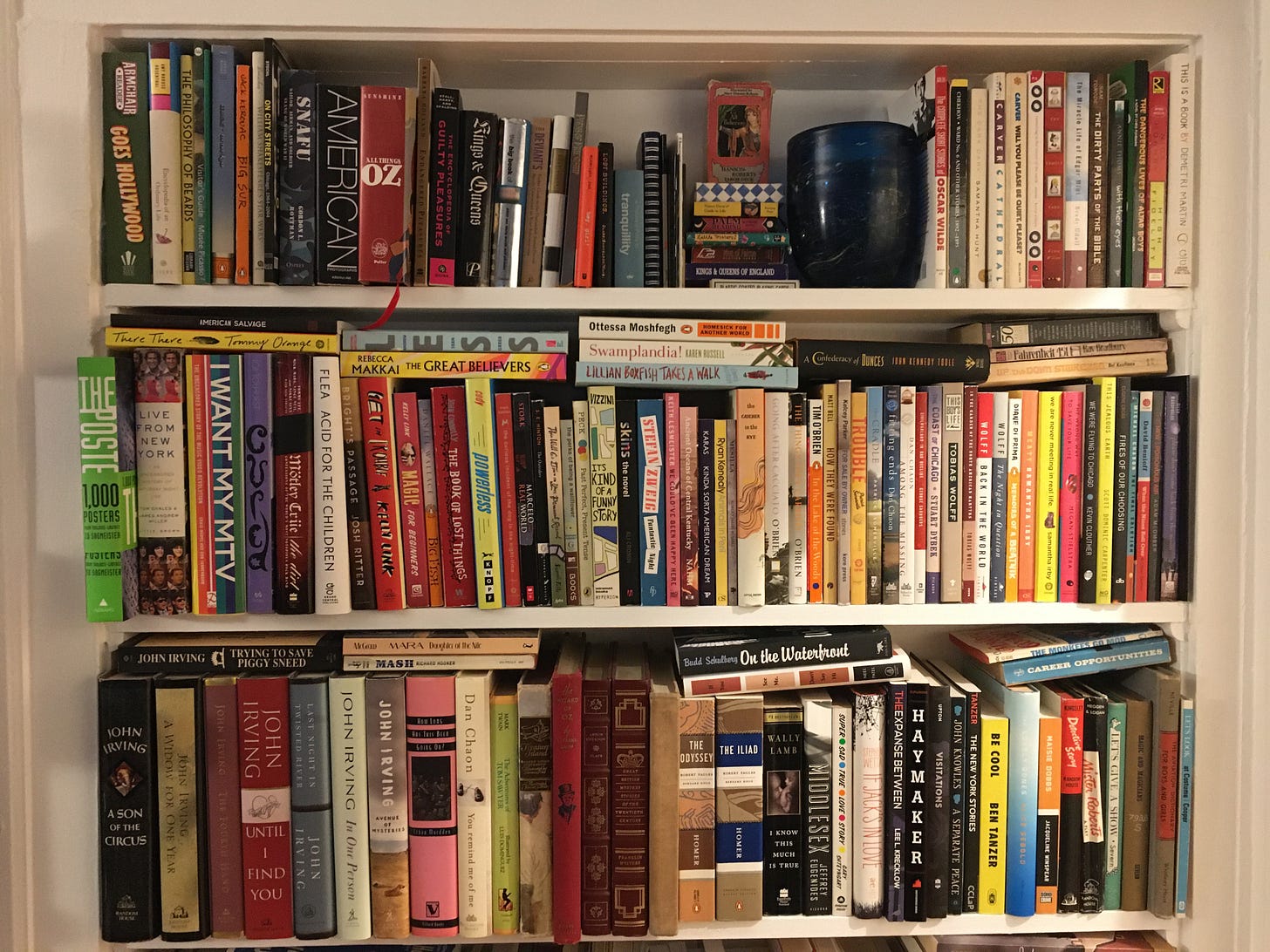 The upper three shelves of my built-in, a favorite place in my apartment.
I now have an affiliate bookshop at Bookshop.org! This new site is "an online bookstore with a mission to financially support independent bookstores and give back to the book community." An indie alternative to Amazon if you will. Whenever possible, book links in this here newsletter will be directed to the site. I'll be adding more titles to the shop as I go along.
Latest read: Carson McCullers' The Heart is a Lonely Hunter. It's one of those books I certainly knew of but didn't really know anything about. This was my year to learn I suppose. I loved it. There's a languidness that maybe fits, I think, with the Southern setting. Things happen and there's suspense but it's not all heart racing and intense. I appreciate that. I also appreciate it in terms of other Let's meet the various denizens of a small town novels like Peyton Place and others. With McCullers' book, you fall for the characters and hope things turn out for the best. Even with a title like this. I recently watched the 1968 film starring a young Alan Arkin as Singer (who was amazing, even as I cast Ray Bolger while reading it.) I enjoyed it overall. Interesting to see what departures from the book were made to streamline the plot and make it its own thing.
---
On the Screen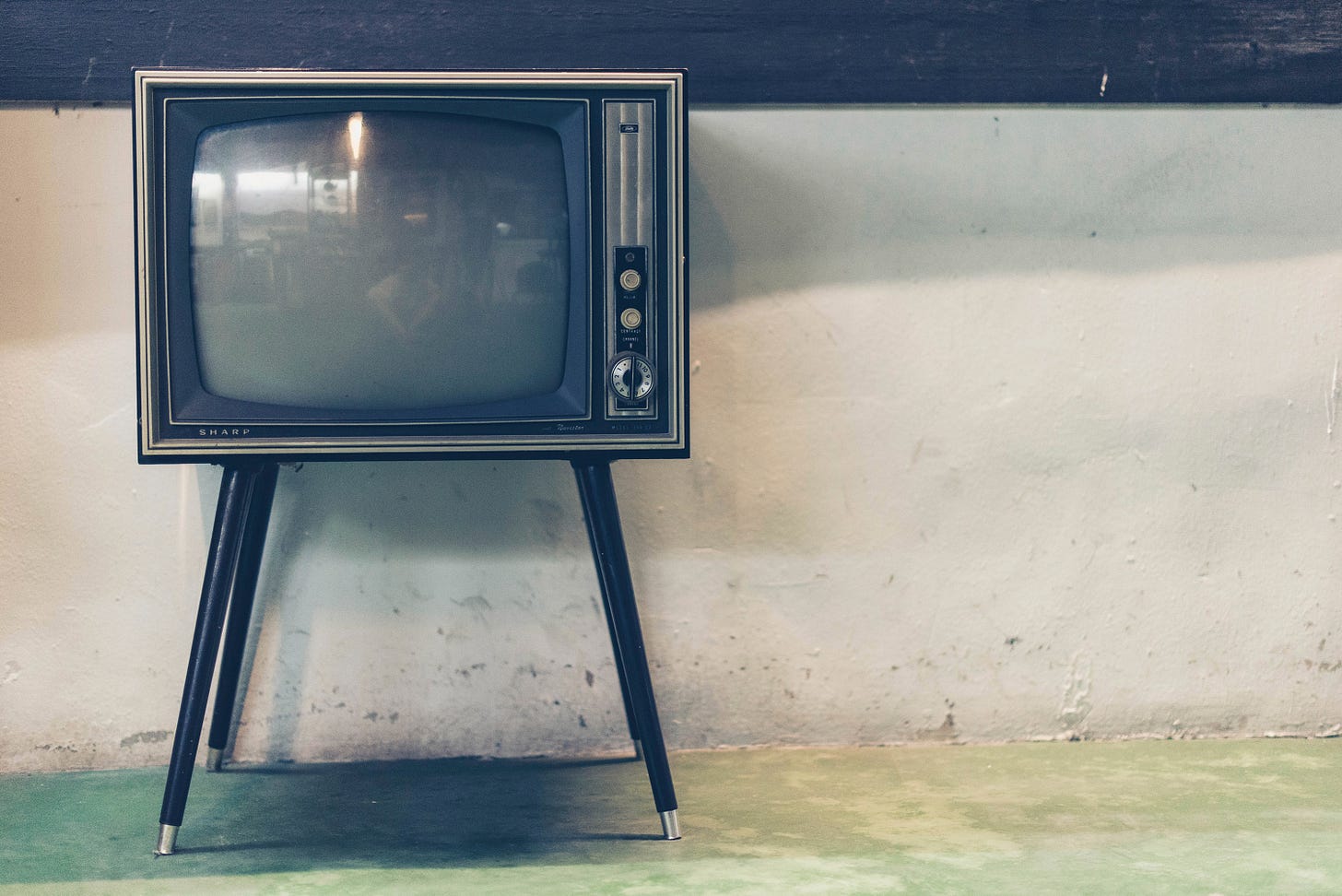 Photo by Sven Scheuermeier on Unsplash
One of my favorite Twitter feeds is The Daily Kerouac. Much of my own Twitter is retweets like this gem: I like too many things and get all confused and hung-up running from one falling star to another till I drop. Yeah, pretty much. I also recommend Chuck Wendig's Twitter feed. He writes, he inspires, he gets political too. He also wrote a damn fine writing book called Damn Fine Story which I also recommend.
I recently watched Ken Burns' 2011 documentary series Prohibition, one if his short three-parters in between his epics. I knew of it but missed it back in the day. I'm a sucker for a deep-dive Ken Burns film (and pretty much anything historical and nerdy), so I was all about it. Along with connecting the dots between the temperance movement and labor and immigration issues, as well as getting a solid portrait of Al Capone, my biggest takeaway was Oh yeah, those beer brands have first names! Miller and Schlitz are people, people! I also recently watched Some Like it Hot for the first time since college, and as it's set during the Prohibition period, it was cool experiencing it again with all that learning fresh in my brain.
Finally, I absolutely loved 1917. It has everything: war, history, friends, brothers, symbolic cherry blossoms. I eat that shit UP, I tell you. Okay, carry on.
---
In the Air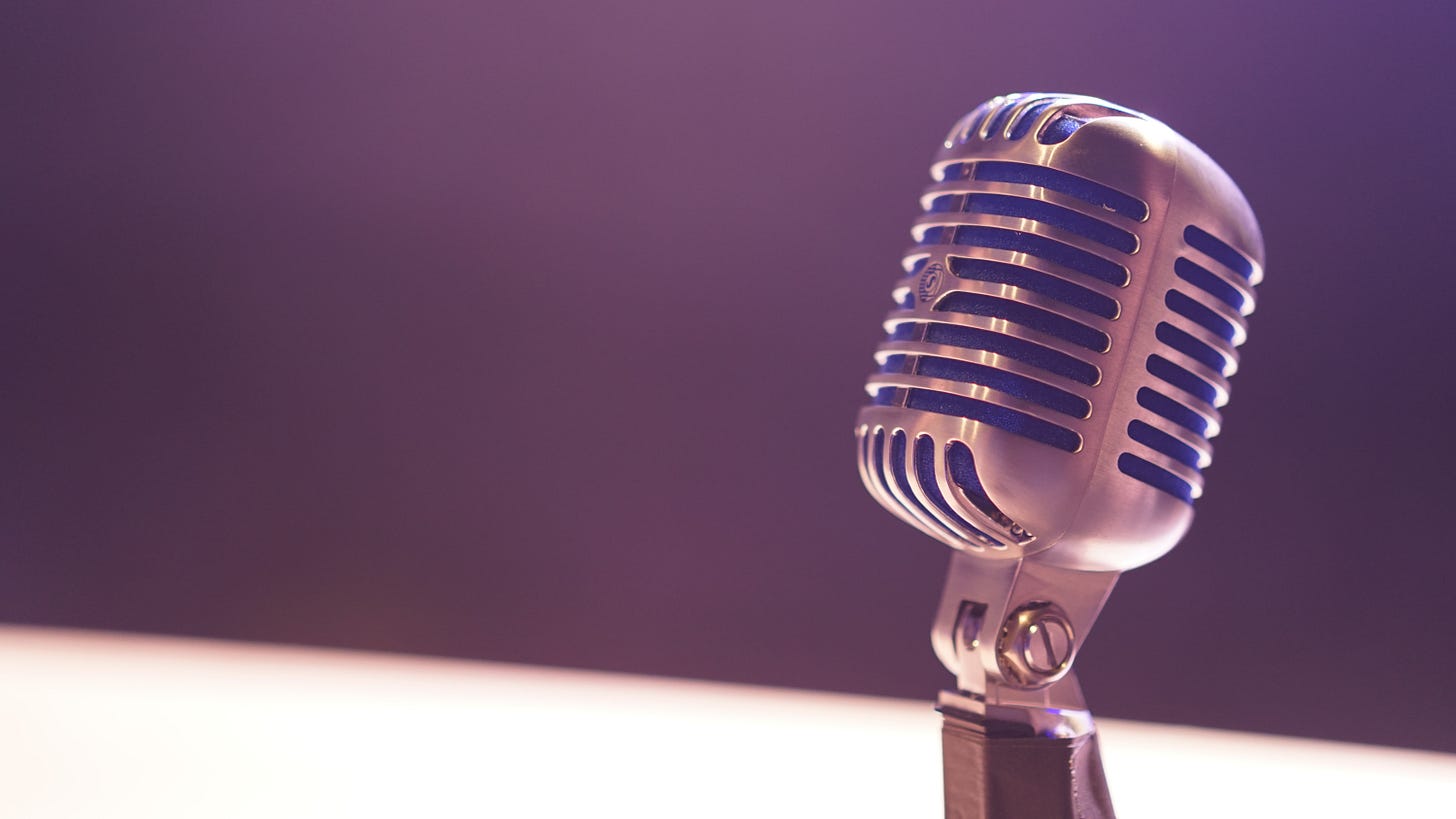 Photo by Matt Botsford on Unsplash
I also recently finished reading Eric Nuzum's Make Noise: A Creator's Guide to Podcasting and Great Audio Storytelling. He offers plenty to think about as he organizes what we know/didn't realize we knew/didn't know about podcasting for anyone considering adding the medium to their creative wheelhouse. And yeah, I'm considering it. American Public Media posted an open call last year for podcast pitches. I had fun putting my (not selected) pitch together, but now I feel like I have the tools to make that and other ideas stronger. So ya know, we'll see….
---
In Real Life
I'll just say here that I'm happy Spring is upon us. I'm ready for my bike and the lake and the sun (but not too much sun because I'm still a bit of a vampire) and feeling a little more alive than I have been this winter. How about you?
---
Thank you!
Thank you so much for reading! It means a ton.
Help share the love by sharing this issue:
Or the whole thing:
Did you receive a link or stumble here from elsewhere and would like to receive new issues in your inbox?
Finally, if you'd like to buy me a coffee to help in my writerly endeavors, click this shiny button (Thank you!):
Cheers,
Michael