October Reboot
Bookish & Particular Issue #4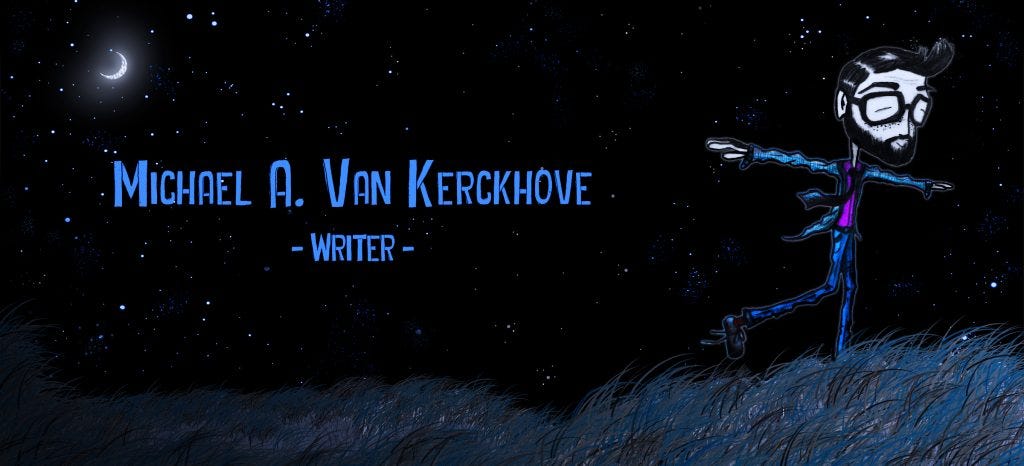 Welcome
Hello! So, it's been a minute since I've written one of these. Because, well, the World. But here we are, this fourth issue of Bookish & Particular: The Writerly Life of Michael in October 2020. The best month if not the best year. I'm an October/Scorpio baby, so a good time to reset, reboot, and all that good stuff. Thank you for being here.
This time around, I'm dividing things up into an update trilogy of sorts:
This issue: From the Pen. Writerly musings, works in "progress," and a live lit update.

Next issue: Off the Shelf & On the Screen. Books & TV that've been getting me through.

Next Next issue: In the Air. New music and a new-ish literary podcast I've been totally digging.
---
From the Pen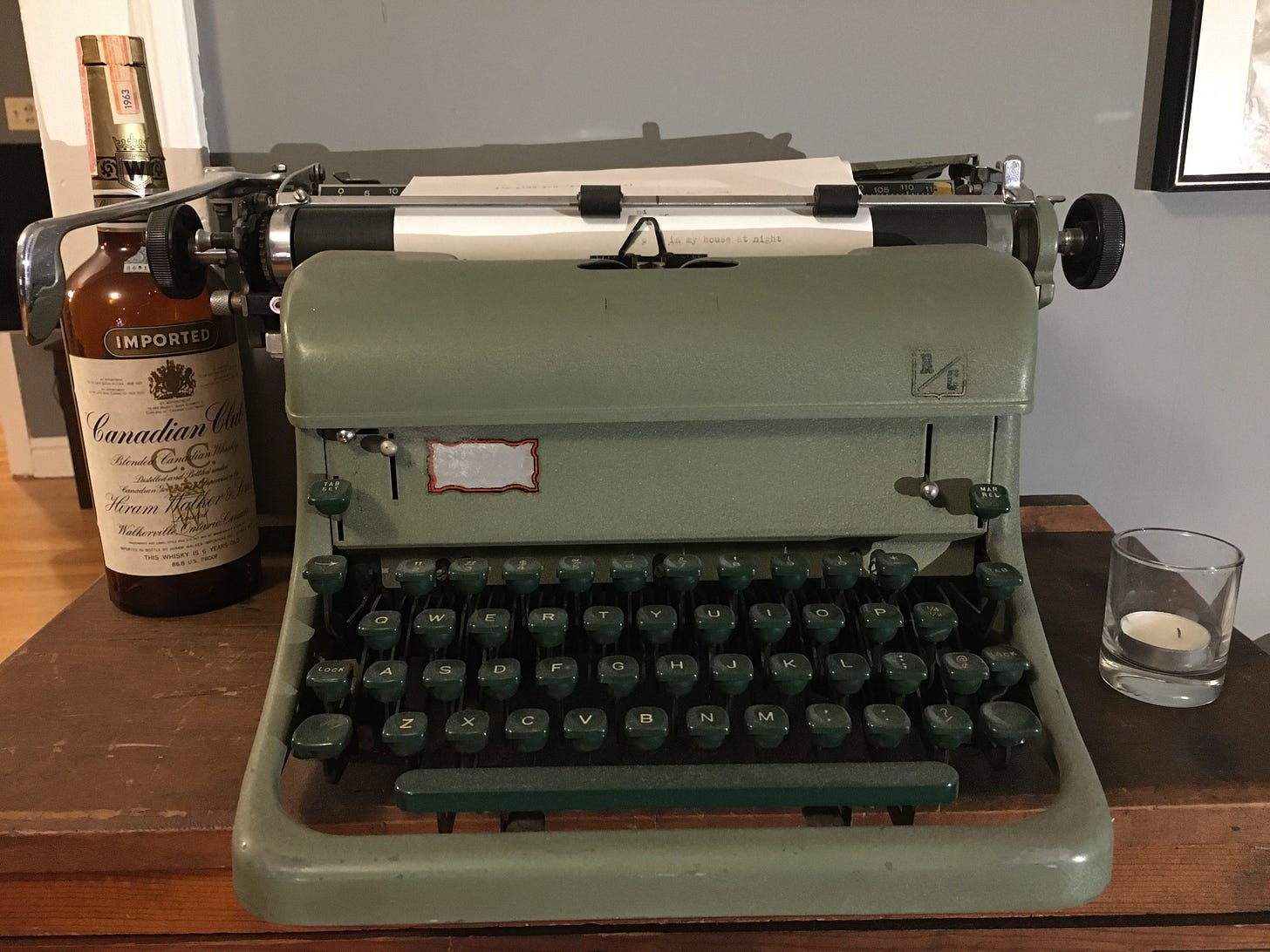 Grandma's typewriter: Remington, circa 1949. (With Canadian Club bottle, 1963.)
Journaling
I mentioned last time that most of my writing during All This was through traditional journaling and more artful free-writing for both myself and future whatevers. That's still basically the truth, and it's been helpful for sure.
With that I (very briefly) watched a handful of Bullet Journal videos in an attempt to further wrangle the various parts of my existence. A pure "BuJo" is not for me—I'm not recopying everything every single day! But I dig certain aspects and have cherry-picked them into something groovy. I've commandeered an on-hand line-free spiral bound journal with its purple metal covers for the job. Now all my handwritten to-do lists (I never use apps or digital calendars) are all in one place and each blank page can be whatever I need (story ideas, freelance/job search, self-care list, etc.) So, yay!
CNF vs. Fiction
I also mentioned that I wanted to get back into my fiction. Still do. But I've noticed that the tug-o-war between my creative nonfiction and fiction raging in my brain is particularly strong these days. Normally, I easily go back and forth between the two.
Some days I'm happy and cozy in my CNF/Personal Essay world, molding Life into Art, dammit, where of all the genres I've worked in I've found the most creative and publishing success. Often I'm on deadline for a live lit show, so always helpful.
Other days, I don't want to deal with my life or truthiness and all that and just make shit up. And maybe that's the lure now: to not deal with reality and escape into worlds of my own creation, whatever the degree of inspiration from real people, places, and things.
Still, I do love that life-molding—and making those connections between the personal and universal—while hopefully entertaining and thought provoking my readers/listeners. I do have some newer material I'd like to further develop. And also have that full-length show to get back to.
Speaking of live lit shows, I've bowed out of a couple I was supposed to do this year. They were booked in the Before Times and then rescheduled for maybe in-person, but then of course were bumped to online. I planned on revisiting a couple stories from the archives, but I didn't feel I could give them the attention they deserved. Plus, I wasn't feeling the world wide online thing, especially with these stories and what I planned to do with them. I look forward to someday sharing stories in a room full of real people again…
Overall, I need to calm the battle and pick something, dammit. :-)
Historical
I have noticed, upon reviewing my fictional works in progress (and by progress I usually mean years of writing bursts, dust collecting, and blue-pen editing and revision), I've become keenly aware that many fall into the realm of the Historical, with varying degrees of the Magical. Not so much real people or historical figures, but definitely past time periods/events. I love history and hang onto my various obsessions and tropes.
Here's what we're looking at:
A short story (for now) set on the eve of WWII involving a mysterious radio announcer and a futuristic doll.

A novel-length adaptation of the last real play I wrote (back was an aspiring playwright) set in 1957. A family; a pink flamingo lawn ornament; a tree house; spooky stuff happens.

The YA novel I started a million years ago that's probably not going to be so YA anymore that definitely involves spooky stuff and has potential connections to historical world events.

A short story (again, for now) set in the early 1980s involving an AWOL Marine and his older girlfriend, with potential throwbacks to Korea or Vietnam.

An imaginary (or is it?) war between two particular professions set in the year 2000.
Of course, my nonfiction is full of history, though of a more personal variety.
Here's some of what we're looking at there:
A story about building my "new" home over the last couple years, inspired by my priority of buying a coffee maker before a couch. I planned to to share this at another since canceled live lit show. Home and creating one's space has taken on a new (or at least amplified) meaning during All This. I definitely want to return to it.

A story of some sort inspired by how while walking in my old neighborhood, my old dry-cleaning lady recognized me through shop windows and came out to say Hello. It'd been a couple years. Actually, I kinda do know what it's all about, but I don't want to get into that now.

I WILL write that story about how I couldn't play Saint Peter in my first grade Easter play because I had chicken pox….

I'm also feeling a deep dive into all things Fourth Coast, my favorite college coffee shop I started going to when it opened in 1993. Yeah…
Please note that any and all of the above projects may or may not ever see the light of a real day, whether in a live lit show or publication—or both. I suppose I've shared them for some accountability and also to help organize my brain a bit. And hopefully y'all would be excited to read them someday….
Research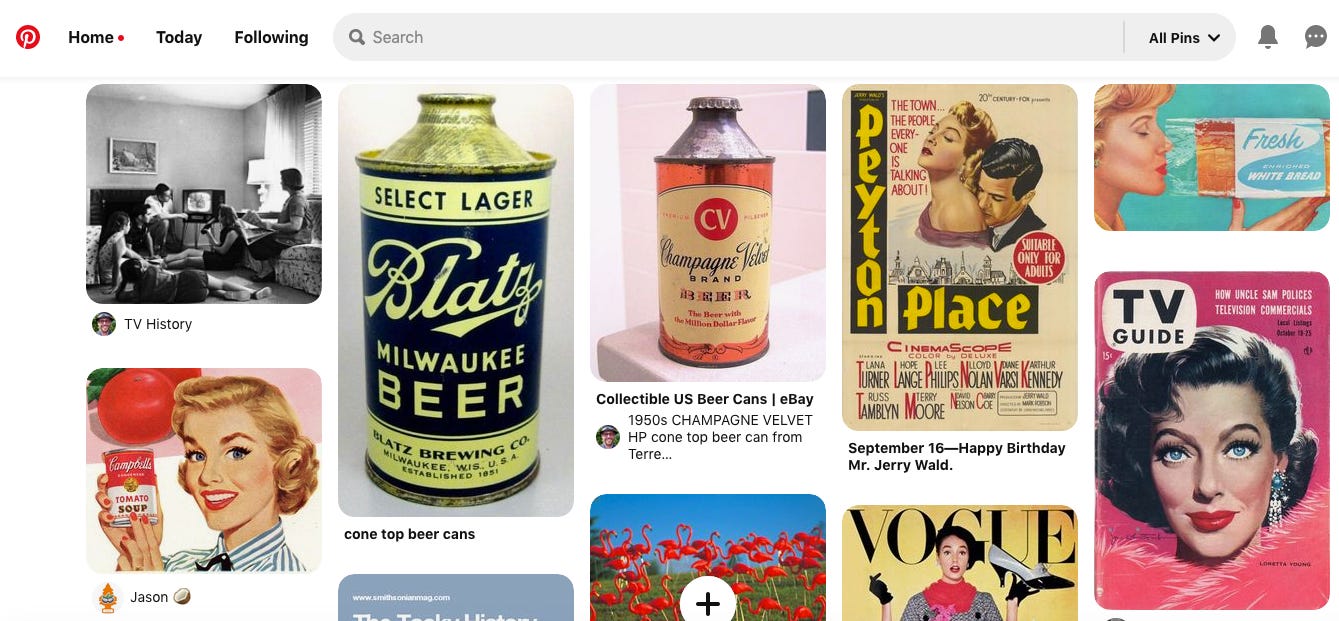 A little peek at one of my Pinterest Boards.
Of course, all that history means more research work for me—but you know I love it. I recently attended an online discussion on historical research in fiction and nonfiction with DePaul professors Miles Harvey and Kathleen Rooney. I had Miles for several classes in grad school, but alas never had Kathleen, but we've since become friends. They both have new books out that I'm excited to read. They discussed organization (mapping! timelines!); primary sources (journals! photos! period writers!), focusing on your agenda and steering the research toward the story you want to tell. Also: don't interrupt the plot with too many fun facts. :-)
Back when I was writing my 1950s play, there was no Pinterest. But I read plenty of books and had a slew of saved web pages (RIP Delicious.com!) Now, story research is pretty much all I use Pinterest for, and I dig it. So helpful! Also, I'd like to think I've matured as a writer and a researcher in the last fifteen years or so. Wish me luck!
---
Thank you!
Thank you so much for reading. It means a ton. See you again soonly!
Help share the love by sharing this issue:
Or the whole thing:
Did you receive a link or stumble here from elsewhere and would like to receive new issues in your inbox?
Finally, if you'd like to "buy me a coffee" to help in my writerly endeavors, click this shiny button (Thank you!):
Cheers,
Michael